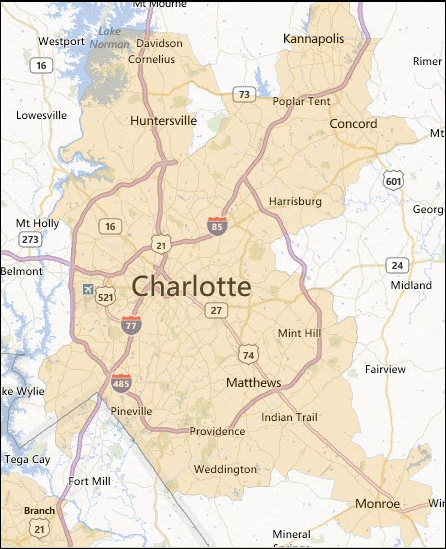 USDA Charlotte North
USDA Charlotte Northeast
USDA Charlotte East
USDA Charlotte South
USDA Charlotte Southwest
USDA Charlotte Northwest
Charlotte USDA Homes Maps Overview

The USDA Charlotte map illustrates the Charlotte USDA eligible areas where USDA 100 percent financing is available.  Note that the concept of USDA financing is to serve RURAL areas.  Therefore the SHADED areas are urban Charlotte areas and do NOT qualify for USDA financing.  However, the USDA rural properties for sale in Charlotte NC suburbs which qualify for the USDA loan program Charlotte are located in the non-shaded areas. 
Some of these areas include close-in USDA homes for sale in Charlotte NC and USDA homes for sale in Mecklenburg county NC as well. Many of these areas are conveniently located less than 20 miles from Uptown Charlotte, including across the border into desirable neighboring SC counties that include USDA homes for sale in York county SC and USDA homes for sale in Lancaster county SC.  Options are plentiful for families looking for Charlotte North Carolina USDA homes for sale.  In addition to Mecklenburg county USDA homes, York county USDA homes, and Lancaster county USDA homes, we can help you with Union county USDA homes, Iredell county USDA homes, Gaston county USDA homes, Lincoln county USDA homes and Cabarrus county USDA homes for sale.
For more information about USDA NC please visit the following related links:
USDA Homes for Sale Charlotte NC
USDA Charlotte Loan Requirements
If you desire to know more about USDA homes for sale in Charlotte or would like us to create a custom USDA home search in Charlotte NC and surrounding area for you, please complete the form below and let us know the type of home we can assist you in finding in these USDA eligible Charlotte areas.
Request More Information
If you have questions or would like more information, please provide requested information below.