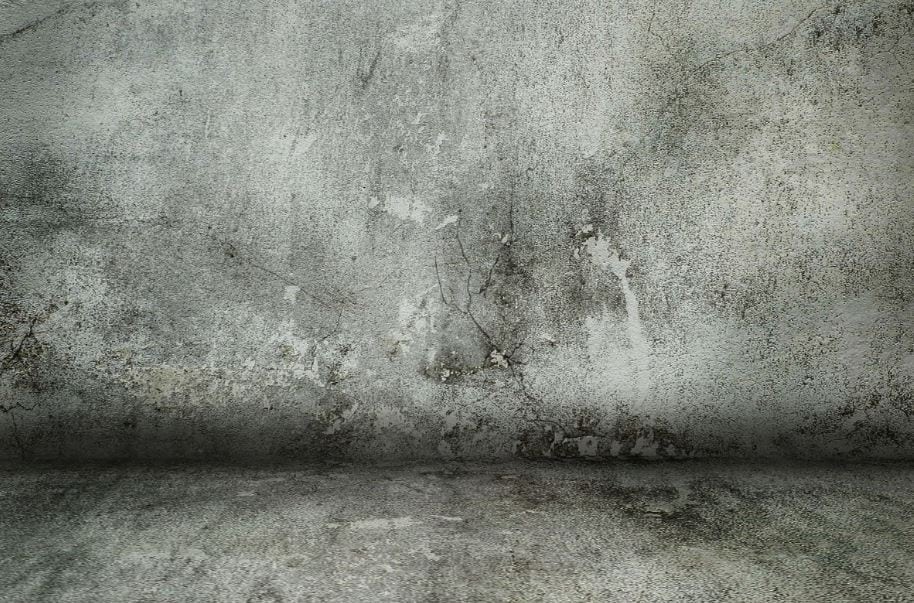 Even though people assume bleach will kill mold on a basement floor, you should never use bleach to clean a cement floor. Besides the fact that bleach is corrosive, there's a more important reason to never use bleach to clean a cement floor. Have you ever noticed that many times after what appears to be a successful cleaning of mold with bleach, the mold returns worse than it was in the first place?
Think back to the types of surfaces those were. Bleach should never be used to kill mold on porous surfaces like cement. Bleach has an ionic structure and can't penetrate into porous surfaces. The roots (mycelia) of mold does though. There, deep inside porous surfaces, these spores wait, endlessly until conditions are right for it to thrive.
Bleach is 90 percent water. The chlorine part of bleach can't make it into the pores, but the water part of bleach certainly can. When you use bleach to clean cement, you clean the top of the cement, and you dump bleach-free water deep into the pores of the cement where mold spores wait for moisture to grow!
So, if you're about to use bleach to clean a cement floor, stop! Don't do it!
Are You Looking for a New Home in the Charlotte Area?
If you're moving to Charlotte, we can help you find the perfect home, no matter what you're looking for. Looking for a home with green amenities like solar panels or geothermal systems? Let us know! Our dedicated real estate team can keep an eye out for homes featuring things not usually listed in data bases and keep you informed, if you contact us and let us know what to look out for. Give us a call at 704-608-2794 or get in touch with us online to let us know what you're looking for. We'll help you find it!
Feel free to use our online tool to search for Charlotte real estate listings set to your specifications. If you need down payment assistance in North Carolina, we can help you find resources! If you'd like access to our exclusive real estate reports and worksheets for FREE, just fill out our simple, online, information request form.
In the meantime, please check out our:
Looking outside the city? Check out:
Want help with home staging or home improvement ideas? Just ask or follow our blog! We also offer FREE real estate advice guides. For example, one guide points out nine common mistakes to avoid if you're buying a new home. Another warns sellers about 14 common mistakes homeowners make when selling their homes.